Dingo-blog
PDD prelaunch
Last Sunday Club PDD had a fantastic pre-launch party. A very classy event, with DJ Scruff and WIll belting out the music while well groomed hosts attended generously to the needs of guests.


The gossip mill is in full swing, as Jackson Winter, member of popular RL and SL Band Midwinter, was one of the nights special guests. Jackon, pictured below, was seen out and about, having a dance, charming the ladies, and generally being social. A great night was had by all. 
Bonza Bailey was the official photographer on the night - with poses and backdrops for guests, including this provocative image of club owner Vanissa Belios ( left) and designers / builders Top Dingo - Pants Lilliehook ( centre) and Mahala Peccable ( right)
Midwinter - Live at Pondfield
Pondfield Sim was opened Saturday 21 June with Live Band Midwinter
Aussie band Midwinter played live to a very appreciative audience, and popular DJ Scruff and DJ Will kept the tunes spinning afterwards as the peeps partied late into the night. Midwinter can be heard at www.reverbnation.com/midwinter, where they score in the top 1% of artists. Free midwinter shirts, hats, posters, and glow bands were taken up and worn with pride by the crowd.
Visitors to the launch also enjoyed touring the sim, with a community art gallery, sculpture trail, whispering rocks, market, balloon ride tour and beautifully landscaped river area and natural australian horseriding trail. The marina offers a unique look at some native fish species, including the leafy green sea dragon, and the interpretive play space is a blast for the young at heart.
We look forward to many more live music events at the music bowl, which is a fantastic venue to play - with follow spotlights, ability to handle a large crowd, dance area and an experienced roadie crew available. Venue enquiries should be directed in world to Peta Philbin - Estate manager.
Sim and venue build, art gallery curators, design and creation and distribution of promotional items, advertising, roadies crew, and band management by Top Dingo.




June Build Comp
The June Build comp was held on the first weekend of June, with the Theme "Vehicle". Some great entires were made, with Reaper Weschler and Glitch Tennant scoring equal first, and Leilah Petrov and Stupid Laws scoring Equal second. An honorable mention was given to Egy Dudek for great texture work.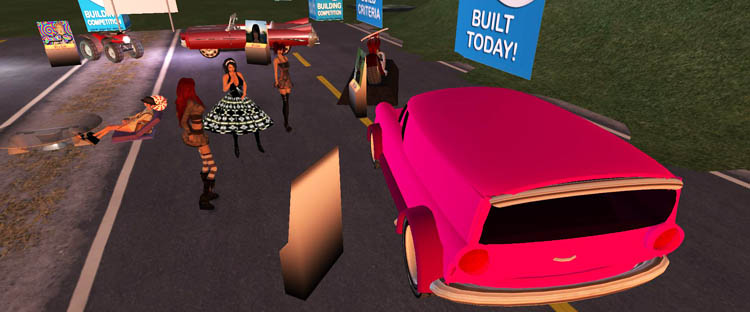 Midwinter - LIVE IN SL
Australian band MIDWINTER are booked to play at the Grand Opening of the new Pondfield Sim, on the 21st June. The band, which plays predominantly alternative rock, rates in the top 1 percent of alternative bands internationally on the ReverbNation website. Click here to join their mailing list, fan club, hear tunes, and get ready for the big sound - coming soon to Pond Estates! To find out how to sign up to Second Life, to watch the event - click here
If you already have a Second Life avatar, please sign up to the Midwinter mailing list below to be sent a SL location, prior to the event.
Join the MIDWINTER mailing list:
Pondstars
Due to popular demand - a range of Pondstars tees have been created for discerning pond members. A tag is also available in group - Pondstar rather than Pondster.
Page 5 of 7