Dingo-blog
Found the Whale
This week in the Pond LL rolled out new updates to servers - and many of the fish simply stopped. The tuna were frozen, the mullet were stunned, and the whale - sank. Worse, when Pants clicked on him, he dissapeared - Douglas Adams style - into the sky....
 He was found - 2 days later - on a block in a neaby sim, eyeing off Uluru. RIP.
The Prim Hog
Friday, 18 April 2008 17:26
This folks, is the prim hog a ground vehicle with an awesome sound, which really flies!
It can be seen cruising around the sims "checking the fences" on a regular basis, with up to 3 dingos on board.
Blam Blam
Friday, 18 April 2008 13:04
Top Dingo recently rented a block at Ponden - and what do you thing was the first ( no second sorry - the dock went in first) thing we did...
Made a Haunted house zone with zombies and mutant spiders, toxic pigeons and headcrabs. After a long day of Dingo Building you might just find us at 500m blam blamming our troubles away - visitors are welcome to go up there and have a shot - it is fun and actually quite harmless. Guaranteed to make you smile :)
Click here for our block at Ponden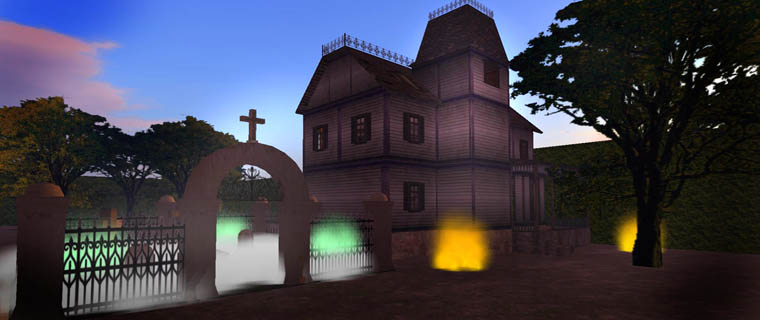 Mermaid area
Made a little mermaid area in the pond when we restocked the fish ( they seem to die when Linden Labs rolls out updates - we had frozen tuna and stunned mullets for a while) Had a nice hour or so playing with the Mermaids and talking of all things fishy.
Page 7 of 7